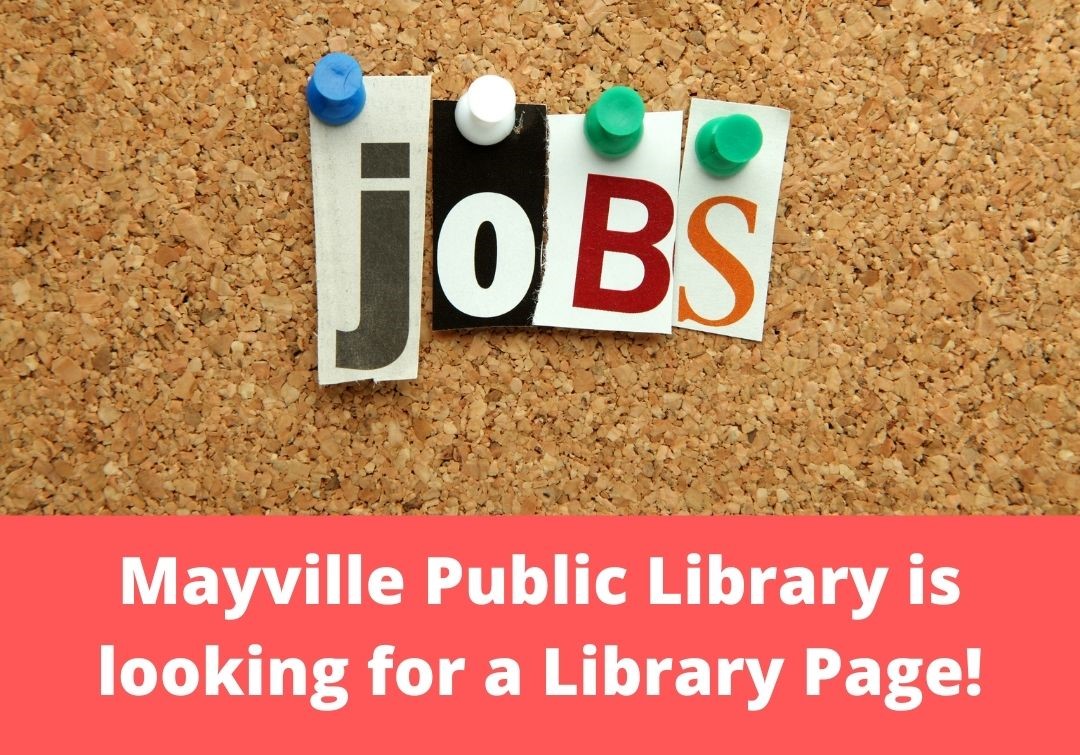 The  Mayville Public Library is looking for our next Library Page! You can fill out an application here and bring it in to the library or email them to: jstasinopoulos@monarchlibraries.org. We will be accepting applications until the position is filled.
LIBRARY PAGE POSITION
RESPONSIBILITIES
Under immediate supervision, reshelves library materials, maintains materials in the library collection in a neat and orderly fashion, assists in other support tasks as assigned.
Routine work but requires attention to detail.
DUTIES:
 Performs alpha-numeric sorting and filing tasks
Arranges returned materials on book cart and reshelves them in proper order
Shelf reads and straightens materials on the shelves
Magazine Roll-over: done once a year to make room for the new year's issues: must pull and discard outdated issues; move current issues to backroom and file in proper boxes
Work on other projects as needed
DETAILS
Work schedule: 10 hours per week (2 hours/day) Monday through Friday
Temporary, part-time position; no benefits; 6-month probationary period
Wage: $7.95/hr.
Library is willing to be flexible with school and extracurricular activities
EDUCATION
Education equivalent to junior in high school
Eligible for work permit
KNOWLEDGE AND ABILITIES
Ability to communicate effectively with staff and public
Ability to follow detailed directions
Ability to maintain a regular work schedule except in the event of school/extracurricular activities
Ability to sort efficiently in alphabetic or numeric order, and to develop an understanding of the Dewey Decimal and Cutter systems of library materials arrangement.
Ability to understand and perform assigned library procedures
Good personal skills and ability to maintain a cooperative and courteous working relationship with public and staff
EQUIPMENT USED
 Book cart for transporting materials to proper areas for reshelving