Director: Jennifer Stasinopoulos
Address: 111 N. Main St., Mayville WI  53050
Phone: 920-387-7910
Fax: 920-387-7917
email: maylib@monarchlibraries.org
We're located at: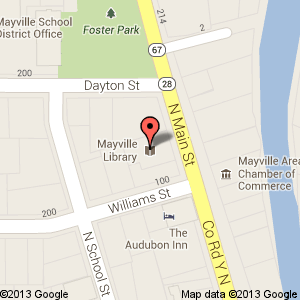 Founded in 1904, the Mayville Public Library started with 250 books in its collection and was housed in a small room over the former Mayville News Building at 26 South Main St. The library moved a number of times over the years as its collection grew. Thanks largely in part to Mr. Carl Dietze, CPA and attorney, for providing an irrevocable trust in the amount of $50,000 as his contribution to the Mayville Public Library Building Fund, a new library building was possible. On Feb. 18, 1968, the library moved into its new building at 111 N. Main St.
Today, the Mayville Public Library is still at 111 N. Main St., but many things have changed. The library currently has over 60,000 items in its collection. The library has adult and children's books, magazines, ebooks, audio books, videos, DVDs and CDs and internet access wi-fi and more!. The library is a member of the Monarch Library System, an on-line catalog of Dodge, Ozaukee, Sheboygan,  and Washington Counties and through our computer terminals you can access and request materials from all 33 libraries.
The Mayville Public Library serves Mayville and the surrounding area to provide materials and services to meet the needs of all our library users.